Cerrar
Thermoval® kids flex
Iniciar sesión
Iniciar sesión ¿Has olvidado la contraseña? Crear una cuenta ahora ¿Aún no tienes cuenta? Crear una cuenta ahora ¿Olvidaste tu contraseña? Introduce tu email para crear una nueva contraseña. Continuar O vuelve a Iniciar sesión Recibirás un enlace en breve. Abre el enlace y sigue las instrucciones para crear tu nueva contraseña. Volver a Iniciar sesión
Añadir al carrito Obtener Muestras Sign Up / Sign In to get a free sample
Termómetro digital para la fiebre con punta de medición suave y flexible.
Detalles del Producto
Thermoval® kids flex es un termómetro digital para la fiebre con punta de medición suave y flexible. Tiempo de medición especialmente corto, de unos 10 segundos, y pantalla digital extra grande. Señal acústica cuando está preparado para la medición, y cuando se ha completado.
Características
Memoria de valores medidos
Desconexión automática
Carcasa resistente al agua y a la rotura
Se puede desinfectar
Con batería reemplazable de larga duración
Este producto cumple con la legislación de productos sanitarios
Entrega y Devoluciones
Entrega en todo el territorio nacional
Entrega directa desde Farmacia
Facilidad de devolución
Headline about product benefits
Tus beneficios con HARTMANN Direct
Pasarela de pago 100% segura
Entrega en máximo 48h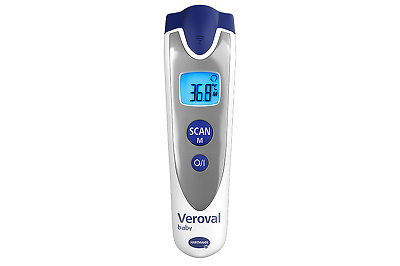 For non-contact forehead temperature measurements
You don't need to disturb your little one while it is asleep: with the Veroval® baby thermometer, you can gently and conveniently take his or her temperature without skin contact or sound. You can take your child's temperature even while he or she is sleeping, absolutely silently and without bothering or even waking him or her.
The infrared measurement is easy, fast (only 3 seconds) and precise – the high measuring accuracy has been proven in clinical studies. As an interesting extra, you can also measure an object's temperature such as milk bottles, the bath water and even the ambient temperature, for example in your baby's room.
Product features
High measuring accuracy thanks to infrared sensor technology
Integrated LED positioning aid enables guided handling of the thermometer during the scanning process: the blue position light indicates the measurement duration and turns off at the end of the measurement
Visual fever alert: at a forehead temperature of 37.6 °C the display lights up in red (in all other cases it lights up in blue)
Non-contact temperature measurement of the body and objects, as well as the ambient temperature
Large, easy-to-read display
Soundless measurement: your baby will not be disturbed during sleep
Illuminated display
Storage of the last 10 readings
Includes a storage box
On the forehead
The thermometer measures the infrared radiation emitted by the skin in the forehead and temple area and the surrounding tissue. The radiation is picked up by the sensor and converted into temperature values.
On object surface
For measuring the surface temperature of an object, point the thermometer at the middle of the object at a distance of 3–5 cm and press the scan button. The scanning process lasts 3 seconds, then the result is shown.
In the room
If you want to measure the ambient or room temperature, hold the device in the room and press the scan button. The air temperature is determined, and after 3 seconds you get your result.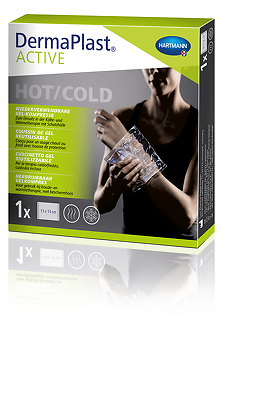 Hot/Cold – for cooling and warming of injuries and for pain relief
Hot/Cold is a reusable gel dressing and can be used in:
• Cold therapy: Alleviates pain locally and reduces swelling (e.g. acute inflammations of joints and muscles; hematomas; toothache;…)
• Hot therapy: Promotes blood circulation locally and relaxes tensions ( e.g. aching muscles; back pain; menstrual problems;….)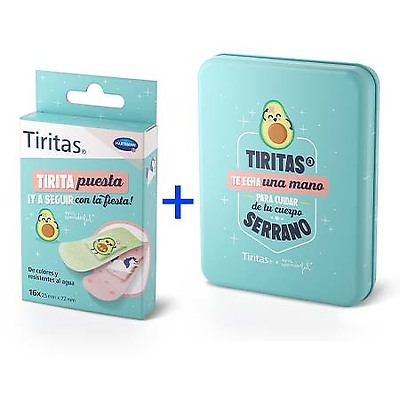 -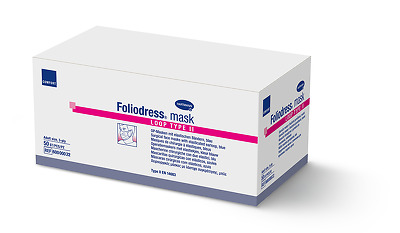 Elastic ties for flexible fit; ​Type II mask according to EN 14683; low breathing resistance in accordance with EN 14683 compared to Type IIR masks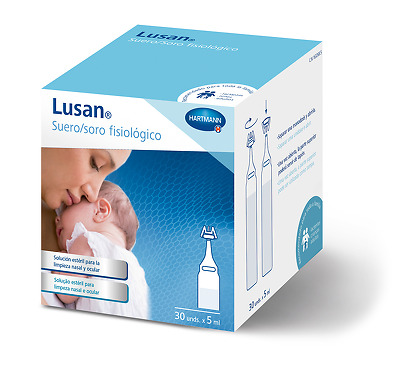 -